Hello everyone! I would say happy Tuesday, but if you ask me, today is anything but that.
Before I get into today's how-to, I would like to take a moment and remember a great man who made us smile, laugh, and cry. A great actor……."O Captain, my Captain…"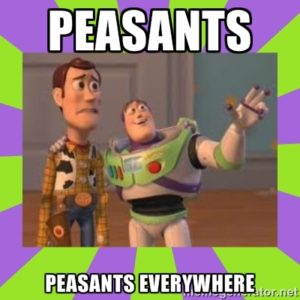 (Image Credit): Here 

When I learned the news of Robin Williams's death, I didn't believe it. As my family and I solemnly watched the coverage on CNN, I felt like I lost a huge part of my childhood. The first movie I ever saw with him was, of course, Aladdin, as the beloved Genie. Soon after it was Flubber, Hook, Mrs. Doubtfire, (which I can recite word-for-word), Jumanji, and many others. It seemed like he was the happiest man alive!
After learning about his struggles with depression and addiction, all I kept thinking was, how could someone so hilarious and vibrant battle with so many inner demons?  
Mental illness is a very real and serious issue. It cannot be overcome through "will power" and are not related to a person's "character" or intelligence. As a society, we know how to deal with broken bones or bad hearts or even cancer, but when it comes to mental health, we're sorely lacking. If you know someone who is suffering from a mental illness, please check-in with them. Just because they're smiling doesn't mean they're okay. Be strong. Get help. Asking for help isn't a sign of weakness, in fact, it's a sign of strength. It says, "I'm ready to take control of my life back and away from depression." You are not alone.
Robin Williams, we will never have a friend like you. Rest in peace. ♥
How about some lighter stuff now? 🙂
If you've visited my Salad page, you'll notice that there is a recipe for "My Favorite Salad", aka the easiest salad recipe ever! I have this almost every day for lunch because it is quick, easily adaptable, and OH SO GOOD. This should really be called "The Balance Bowl", because I'm all about a balanced plate! It leaves you happy and completely satisfied. 🙂
To make the magic happen, all you need are 6 simple ingredients:
Base

: your favorite greens (I LOVE kale/spinach)

Complex Carbs

: rice, quinoa, whole grains, sweet potatoes, beans, etc.

Protein

: lean meats (if you eat it), fish, tofu/tempeh, beans, dairy, etc.

Healthy Fat

: nuts, seeds, oils, avocado, etc.

Extras

: LOADS of fresh fruits/veggies of your choice, hummus/guacamole, leftovers, etc.

Dressing

: olive oil, vinegars, or your favorite dressing!

Just make sure it's all natural

😉
Ready to make your own?? 🙂 Here's a step-by-step from my lunch today!
Step 1: The Base
Get out those greens and pour them in the bowl! Load up on dark leafy greens to get an excellent source of vitamins A C, and K.
Step 2: Carbs
Complex carbs release slowly in your body, are rich in fiber, and promote health to ensure for maximum energy. I decided to go with brown rice today!
Step 3: Protein
Today we had leftover salmon in the fridge, so I obviously had to eat that, plus some cottage cheese! I regularly have tuna or beans as my protein source.
Step 4: Healthy Fats
Avocado anyone? If you remember yesterday's post, I talked about the importance of healthy fats. Since I have guacamole in my fridge, I decided to use that, but you could use any nuts, seeds, or even hard-boiled eggs! (That could count as a protein source too!)
Step 5: Extras
Cue the leftovers!! Today we had leftover veggies from last night's dinner, so I threw those in along with some hummus and salsa.
Step 6: Dressing
Sometimes I don't even use dressing if I already have avocado, hummus, salsa, AND cottage cheese. When you mix it all together, it makes the salad so creamy but the lettuce sometimes sticks together. To combat this, I splash on some rice or balsamic vinegar and it's so delicious! 🙂
Time to watch Goodwill Hunting, so let the Williams movie marathon begin!
Have a great Tuesday and remember, YOU ARE NOT ALONE.
food
healthy
how-to
life
mental health
quick and easy
recipe
rememberance
Robin Williams
routine
Tuesday