Good morning all, and HAPPY FRIDAY!! 🙂
It's a little bit of a bittersweet morning for me, because today I am heading back to school for the start of another great semester. Hello sophomore year, nice to meet you!
This post will be short and sweet, but I've got an even shorter and sweeter dinner recipe that will be sure to satisfy your hunger on a busy night. Enter: POLENTA.
Polenta is cornmeal boiled into a porridge, and eaten directly or baked, fried, or grilled. Cooked polenta can also be shaped into balls, patties, or sticks, and then fried in oil, baked, or grilled until golden brown. Historically, polenta was served as a peasant food in North America and Europe.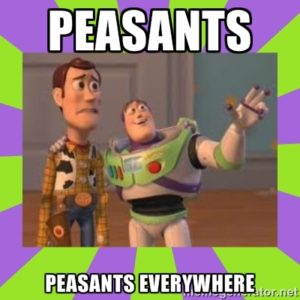 Image
HA. Sorry I had to.
This recipe can be made on the stove too, but my recipe calls for the microwave, which is even easier!!
Polenta
Serves: 4 dinner plates
Prep Time: 5 min
Cook Time: 20 min
Total Time: 25 min
Ingredients:
8 cups water
3 cups uncooked polenta
2 tsp salt
Your favorite sauce to serve
Grated cheese to garnish
Directions:
Place all ingredients in a very large microwavable bowl and microwave uncovered for 10 minutes, stirring a few times.
Stir and cook 10 minutes more until bubbly.
Remove from microwave and divide the polenta onto 4 plates. Serve with your favorite sauce and grated cheese on top!
Enjoy

🙂
There you have it! A meal in less than 30 minutes, and I promise you won't be disappointed. Technically, you're supposed to cook it slowly on the stove, but with school nights just around the corner, this is a quick meal for those cold autumn nights when your family is hungry for good Italian peasant food.
Haha. Peasant.
Have a fantastic Friday, I'm off to see the wizard! 😉
Nahh just kidding, here's to a great semester. Cheers! 🙂
family
family recipes
Friday
Italian
life
polenta
recipe