Good morning everyone and TGIF!!! 🙂
(Image Credit)
Woot!
You may notice that the title of today's post is different than what it should be. I promise there's nothing "fishy" about it though! 😉 The title usually reads "Family Recipe Friday", but since I'm back at school and don't have access to my family's recipe archives, I'm changing things up for a bit! I hope that's okay. 🙂

My brother actually came up with this idea of a "Fishy Friday", and each week I'll now be showing you different ways to prepare fish with a recipe included. Clever right? 😉 This will come in handy for those of you seafood-lovers who are sick of your usual cooking methods! Now, onto today's "fishy" preparation: GRILLING.
I know, I know, you're probably rolling your eyes at this one. 'Who doesn't know how to grill fish?!' You'd be surprised! Grilling cooks fish fast and keeps it tender, juicy, and flavorful. If you've never grilled before, never fear! You honestly don't need to do anything, the grill does all the work! How great is that?
The sturdier and fattier fish, including grouper, salmon, tuna, swordfish, and shark, grill beautifully. Make sure that your grill is very clean and oil it lightly before adding the fish. Then leave the fish alone! Let those babies cook away themselves! If the grill is properly preheated and prepared, the fish will develop a nice crust and will release when cooked. For more delicate fish fillets, using a grill basket will make grilling any type of fish much easier. Just be sure to remove the fish from the basket as quickly as possible so it doesn't stick! Or, you can put a sheet of heavy duty foil on the grill and cook the fish on that. Don't cover the grill though! The cover traps too much of the smoke and overseasons the flesh. Over seasoned fish = dry fish. UGH. I highly recommend the basket though! 🙂
Wow, trout packs a punch, check out it's nutritional value!
1 fillet (143g) is:
215 Calories
8g Total Fat
2g Saturated Fat
0g Trans Fat
99mg Cholesterol
80mg Sodium
0g Carbohydrates
0g Fiber
0g Sugar
Wait for it……
33g PROTEIN. YESSSSS.
(Taken directly from here).
Without further ado, a "fishy" recipe for you!
Ready to try making your own? Cooking Light has an awesome recipe for grilled rainbow trout. If you prefer another fish, you can definitely use that instead!
Grilled Trout
 Yield: 4 servings (serving size: 1 fish)
Total: 38 Minutes
Ingredients
1 tablespoon fine sea salt
2 teaspoons sugar
4 (7-ounce) dressed rainbow trout
Cooking spray
1/4 teaspoon table salt
1/4 teaspoon black pepper
2 (1-ounce) bunches dill sprigs
2 medium limes, each thinly sliced
Preparation
Combine 2 cups water, sea salt, and sugar in a shallow dish; add fish. Let stand 20 minutes. Drain.
Prepare charcoal fire in a chimney starter; let coals burn until flames die down. Pour hot coals out of starter; pile on one side of grill. Coat grill grate with cooking spray; put grate in place over coals.
Sprinkle 1/4 teaspoon salt and pepper over fish flesh. Divide dill and lime slices evenly among fish cavities. Coat outside of fish with cooking spray. Place fish over direct heat; grill 4 minutes. Turn over; move to indirect heat. Grill 12 minutes or until done. Enjoy!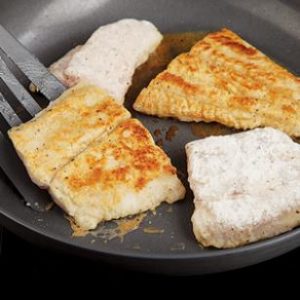 Have a fish-tastic Friday!! 😉
(Wow, that was pretty bad).
fish
Fishy Fridays
food
healthy
heart healthy
recipes
seafood
yummy