Woohooooo I made it through the first week of sophomore year and there's already so much to do!!
But no matter, it's Friday everyone, and that means it's time to get fishy….another "Fishy Friday" is coming your way!
First, let me breathe….
Okay, I'm good 🙂 (Image)
Catching up? Check out last week's post here!

Don't be intimidated by this week's fish preparation! I've never sautéed fish, but after reading about it, it's actually quite simple! Sautéing works for any type of skinless fish fillet. First, season the fish as desired. Then, depending on the number of fillets you're cooking, heat 1 to 2 tablespoons of extra-virgin olive oil in a skillet over medium-high heat. Cook the fish for 2 to 3 minutes per side per 3/4 inch of thickness, shaking the pan occasionally to keep it from sticking. (The thicker the fish, the longer the cooking time.) This method is an easy way to cook your fish when you need to whip up a quick dinner. You'll never forget how to do it!
Now before you go "what?!", let's break it down:
Sautéing is a form of dry-heat cooking that uses a very hot pan and a small amount of fat to cook the food very quickly. Like other dry-heat cooking methods, sautéing browns the food's surface as it cooks and develops delicious flavors and aromas. When sautéing, it's important to heat the pan for a minute, then add a small amount of fat and let the fat get hot as well, before adding the food to the pan. Another key is to avoid overloading or overcrowding the pan. The pan must stay hot throughout the cooking process and too much food in the pan dissipates the heat, causing the food to steam or boil rather than sauté. We don't want that! So keep it hot, hot, hot!! Did you know the word sauté actually means "jump" in French? Tossing or flipping the food in the pan ensures that it cooks evenly, but it also helps keep the pan hot.
Okay, everyone on the same page? Good, let's get cookin'! 🙂
Easy Sautéed Fish
(Recipe from Eating Well) 
Feel free to get creative and experiment with other seasonings! If you like a little heat, add a pinch of cayenne; for a smoky flavor, add a touch of smoked paprika; try white pepper, a common ingredient in Chinese cooking, instead of black pepper if you're pairing the fish with the Black Bean-Scallion Sauce.
Makes: 4 servings
Active Time: 15 minutes
Total Time: 15 minutes
Ingredients
1/3 cup all-purpose flour
1/2 teaspoon salt
1/4 teaspoon freshly ground pepper
1 pound catfish, tilapia, haddock or other white-fish fillets (see "Choose Sustainable Fish," opposite), cut into 4 portions
1 tablespoon extra-virgin olive oil
Preparation
Combine flour, salt and pepper in a shallow dish. Thoroughly dredge fillets; discard any leftover flour.
Heat oil in a large nonstick skillet over medium-high heat. Add the fish, working in batches if necessary, and cook until lightly browned and just opaque in the center, 3 to 4 minutes per side. Serve immediately.
Nutrition
Per serving: 163 calories; 8 g fat (2 g sat, 5 g mono); 43 mg cholesterol; 8 g carbohydrates; 0 g added sugars; 13 g protein; 0 g fiber; 368 mg sodium; 249 mg potassium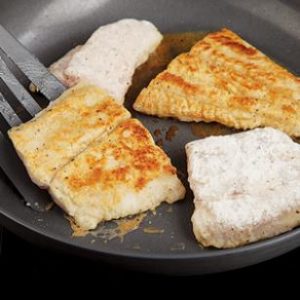 (Image)
For a quick and easy dinner recipe, this one will do the trick! Why not try it for Labor Day?? 😉
Have a fantastic weekend!!! 🙂
XOXO
easy
fillet
Fishy Fridays
Friday
healthy
saute
seafood
yummy